TSU RUNNING BACK JAVARRIS WILLIAMS NAMED OVC FRESHMAN OF THE YEAR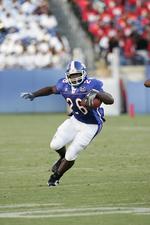 Brother Javarris Williams (Spring 06-Zeta Alpha), was named Ohio Valley Conference Freshman of the Year for the 2005 Football Season. Brother Williams, a native of Richmond, Texas proved to be an impact player in his first official collegiate season for the Tigers. He broke the freshman record by rushing for 872 yards this past season for a struggling TSU offense. He broke out for a career high 190 yards at Tennessee Tech as well as having 2 other 100 yard outings.

Brother Williams is the first TSU player to ever receive the OVC Freshman of the Year Honor in addition to being named second team All-OVC and to the All-OVC Newcomer team. This upcoming season will be a special one for Brother Williams as he sets his sights on becoming the best back ever for Tennessee State University.